Posted on 13 November, 2021
The 33rd Turin International Book Fair hosted numerous events related to comics. Among them, MUFANT (the Museum of Fantasy and Sci-fi of Turin) presented its temporary exhibition Women of Wonder. Made by Silvia Casolari and Davide Monopoli (CEOs of the museum) and entailing an Italian section curated by comics artist and writer Andrea Cavaletto, it traces the history of female characters throughout the different eras of pop culture comics. The exhibition lasts until the 27th of February 2022.
Celebrating first of all Wonder Woman, on her 80th anniversary, the exhibition gives an insight into the different kinds of women one can find in comics. From Catwoman, femme fatale and lover/nemesis of Batman, to Captain Marvel, one of the most powerful heroines of all time, passing through complex and ambiguous characters like Scarlet Witch or Mystica, comics store a wide range of examples, all interesting for different reasons.
The artists on display are first of all Maurizio Manzieri, an illustrator in the field of fantasy and sci-fi and the first Italian artist who is among the finalists of the Hugo Award, and David Messina, cartoonist and, among many other works, illustrator of Catwoman's and Wonder Woman's runs. The other Italian artists, coming from different areas of the comics industry, are the following: Barbara Astegiano, Massimiliano Bertolotti, Elena Chiappini, Federica Di Meo, Claudio Montalbano, Cristiano Sartor, Attila Schwanz, Cristiano Spadavecchia, Daniele Statella and Toni Viceconti.
Hypercritic interviewed Andrea Cavaletto about the Italian section of the exhibition and, in general, the role of female characters in comics:
For starters, how was Turin International Book Fair 2021, comics-wise?
Andrea Cavaletto: It was great, after almost two years' stop I was really impressed by how many people were there. I had to take a few minutes to realize it was all real. Moreover, a lot of space was dedicated to comics and I was glad to see that visitors were genuinely interested in our works. I did endless signing sessions and many colleagues told me they did as well. I can say it was (also) a comic fair, much more than other comics-related events in Turin.
Let's get to the exhibition. How started this collaboration with MUFANT to make "Women of Wonder"?
MUFANT organized a festival in September, "Loving the alien fest", during which they wanted to celebrate Wonder Woman's 80th anniversary and present this exhibition about female characters in comics. They asked me to curate part of it and I was very glad to do it. Thinking about who to call, David Messina immediately came to my mind, as he is an Italian artist who illustrated a Wonder Woman's run. I contacted him and he was very excited to participate.
Explain to the readers the content of the exhibition.
Half of it is made of Messina's original plates of comics female characters. From Wonder Woman to Catwoman, there are a lot of illustrations, sketches and unpublished material. For the other half, I asked several Italian artists to draw a personal interpretation of favorite comics female characters. I had the idea of calling not only artists familiar with superheroes stories but also others coming from the independent field or outside the comics industry. The result was an intriguing mash-up of styles, some far distant from the mainstream standards.
I wanted to give different examples of what illustrating comics mean. You can either see an Angela from Spawn illustrated by Attila Schwanz, with a heavy underground touch, and a classic Wonder Woman as drawn by Cristiano Spadavecchia. I am very proud of the final result, also considering it was the first time I handled an exhibition.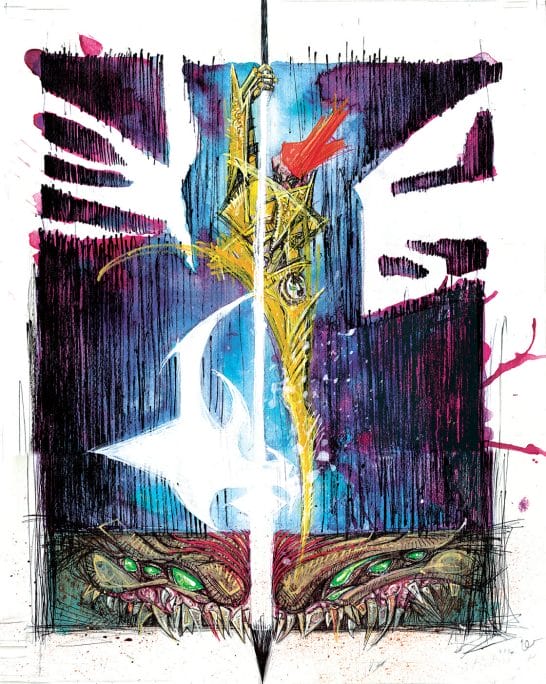 Who is your favorite comics female character?
I would say Catwoman, she is a multi-faceted character with a lot of things to say. I think, for example, about Ed Brubaker's run on her, which I liked a lot. Moreover, everything concerning the world of Batman fascinates me, because of its dark vibes. I would surely love to write something involving Selina Kyle.
How and how much changed the role of women in comics?
There's been an incredible change, especially in the last few years. Of course, they have always been present, but until the 2000s they were almost always supporting characters. Even when they did get center stage, they were heavily sexualized, the illustrators showcasing their curves. Sometimes it was close to soft porn, I must say. For example, I think about the early works of Image Comics in the 90s. Things slowly changed and now I think female characters play a completely different role and sometimes they even outshine their male "colleagues".
To remain on topic, what artists and works contributed to the emancipation of women in comics?
There is a rising number of stories involving female characters as protagonists but also of female writers and illustrators who can give a more authentic perspective. A woman writing and/or drawing a female character will surely focus less on seductive and sexy features, giving instead unique traits to her personality. To make a few examples, there are Sara Pichelli, co-creator of Miles Morales together with writer Brian M. Bendis, and Mirka Andolfo (Un/Sacred, Unnatural), who is doing a lot of works for DC Comics.
But I also think about Tom King. I am reading his run on Batman at the moment and, at least from what I've read so far, Catwoman is the real protagonist. Also for what concerns Dylan Dog, during the last years, there has been a lot of stories created by women like Paola Barbato, Barbara Baraldi, Gabriella Contu, Silvia Mericone, Maria Rita Poretto.
Are we at a time when it is possible to convey something more than a good story and entertainment by comics?
I hope so. Personally, I have always spent a lot of time figuring out the main theme of my stories. Having a solid grasp on it, for me, is fundamental. For example, my first episode of Dylan Dog was about global warming. I always write about stuff that struck me and which I consider relevant to talk about. I also think this is what gives the reader the chance to discover something new or explore a different perspective on what he already knew. This doesn't mean being moralistic or using stories only to convey a message, just giving multiple layers to a story.
Let's talk about you. Who is Andrea Cavaletto?
Well, who is Andrea Cavaletto? No clues… jokes aside, I am a comics writer and illustrator. I have always been passionate about comics and movies and I knew I had to work in this field to make a living. It was the only thing I felt I could do, so it was either this or becoming a homeless guy. Luckily my efforts have been rewarded. I started in the underground field, self-producing my earliest works. Then I shifted to independent publishing houses and, later on, to Sergio Bonelli Editore.
However, the fact that I have worked with bigger publishers didn't make me forget about where I come from. Working in the independent field means having much more freedom and this is why I still enjoy collaborating with them. For example, I don't think I could have written something like Paranoid Boyd if it wasn't for Edizioni Inkiostro. A work like that gave much more recognition than the Dylan Dog episodes I had written by that time because I had the chance to fully express myself.
You also recently published a comics version of Un Chien Andalou by Luis Buñuel, published by Edizioni NPE. Tell us something about it.
I find out about this movie when I was very young and it had a huge impact on me. When I finally managed to watch it, it impressed me deeply, even if I didn't understand much, I admit it. Exactly because I wasn't able to comprehend it wholly, I felt the desire to make a comics version of it. I thought it would have been a way to examine it fully. But then time passed and I never got a chance to work on this project.
Until two years ago, when I read the comics adaptation of Nosferatu, published by NPE. I found it wonderful and the idea of adapting Buñuel's movie immediately came back to my mind. I proposed the project to the publisher and here we are. It was an unexpected success, it received a lot of praising reviews. I am very happy with this graphic novel, also because NPE was one of the first publishing houses that published me. Moreover, after a lot of time, it was an occasion to draw once again, after many years as a scriptwriter.
You worked as a writer, cartoonist, screenwriter. What's your favorite role?

I don't think I have one, I enjoy them all. What I need is to not get bored. I always try not to repeat what I've already done, otherwise I will completely lose interest in what I'm working on. I have to surprise myself, before the reader.

Other works we should expect from you soon?

I already signed contracts with NPE for three more graphic novels like this. I will keep on being a writer and illustrator and there will be movie adaptations too. Recently, I also wrote a book with Lisa Zanardo, Io sono il male (I am the evil, Ed.), a psychological thriller published by GM Libri. I think it is an unprecedented way to talk about MS in a novel and make the reader familiar with it. I'm very satisfied with the final result. The fact that Lisa suffers from this disease helped us write a very authentic story. I believe fiction can help the reader approach delicate themes much more than any essay.

Last but not least, from this November there's available on Amazon Prime and Apple TV Lettera H (Letter H, Ed.), a horror adapted from a comic book of mine, directed by Dario Germani and written by me. I hope you will enjoy it!

d