A Feast of Ice and Fire | How an epic saga tastes
More Info
How does the food taste in Westeros? This is probably what Chelsea Monroe-Cassel and Sariann Lehrer asked themselves when they decided to bring some recipes to life from the fantasy world of Game of Thrones. The result is A Feast of Ice and Fire: The Official Companion Cookbook, published in 2012. The authors wanted to find out how an epic saga tastes. So, during a tradefair in 2011, they met George R.R. Martin, the writer of the acclaimed fantasy series A Song of Ice and Fire, offered him some suggestions, and said  "In our opinion, that is what your characters would eat". He agreed and gave his permission to publish the saga's official cookbook. 
A saga one can experience
A work like A Feast of Ice and Fire must be preceded by a long research phase: not just from a linguistic and literary point of view, but also from a historical one. Reading the original book, it's dragons, cold castles, skulduggery, and battle beheadings, but one also discovers what the nobles from Winterfell, the Iron Islands, or at King's Landing ate in their castles, and what they put on the tables of the peasants. 
The two authors, both Americans, love food, and their detailed and immersive descriptions of feasts, including dwarfs, jesters and drunken soldiers, are a fine culinary match for the drama of the series. If the book were a painting, it probably would be Paolo Veronese's Feast in the House of Levi, or Pieter Brueghel's 1556 masterpiece, Peasant Wedding Feast. Some of the descriptions are so accurate that it seems as though you're sitting next to a character at the same feast as them.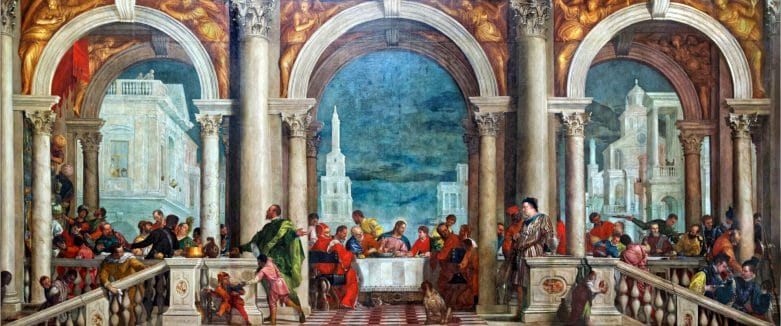 George R.R Martin did some deep research on what people ate during the Middle Ages, too. He never mentions potatoes, chocolate, or tomatoes, as Europeans only discovered them later on in America, and brought them back to their own countries. And if the characters drink a lot of alcoholic drinks, often they are warm, spiced and sweetened, as was normal at that time. 
More than once, people have asked him to write a cookbook based on his fantasy world recipes, but he never accepted. As he admits in the introduction to A Feast of Ice and Fire, he is bad at cooking: it would have been impossible for him to figure out how an epic saga tastes.
How to find the perfect recipe
Game of Thrones, the HBO TV show based on Martin's A Song of Ice and Fire, gives an immersive experience in Martin's fantasy world. Although it is not easy to imagine smells and tastes in the TV show, this series tries to make everything real.
The two authors, Monroe-Cassel and Lehrer, were able to take a step forward: they dug into ancient recipes, reconstructing how and what people used to eat and cook in the past. Some recipes come from Roman cookbooks, but most of them were in medieval essays, and the result of their research sits somewhere between a history essay and an in-depth study for those readers who love works of historical fantasy.
The book starts with a short introduction about historic cooking, such as the basic preparation, useful kitchenware, common ingredients and how to replace them if they happen to be extremely rare. Although pretty off-beat, and rich in spices, the recipes are not too difficult even for those who are not professional chefs. 
The book dedicates a chapter to every region in Westeros and Essos. Each chapter collects food and drinks related to a character or a place. A passage in the novel introduces each recipe, and in some cases, there is a double version of the recipe, ancient and modern. Ancient recipes come from cookbooks from the Roman era and Middle Ages; modern ones are the result of experiments.
Other tasty worlds
Monroe-Cassel and Lehrer started working together some time before publishing this book. They already had a website, The Inn at the Crossroads, where they have published fictional and historic recipes. Together they also wrote other fantasy cookbooks, such as Star Wars: Galaxy's Edge Cookbook and The World of Warcraft Cookbook.

However, they are not the first nor the only ones who wanted to try and taste what their favorite literary or film characters used to eat. In 2016 the British writer and blogger Kate Young launched The Little Library Cafè website, collecting recipes from books or films. In 2012 Italians Luisa Vassallo and Cinzia Gregorutti published the book A Tavola con gli Hobbit – Ricette e menù della Terra di Mezzo, (Dining with the Hobbits – Recipes & Menus from Middle Earth), while in 2019 the American Dinah Bucholz wrote The Unofficial Harry Potter Cookbook. Different recipes for different fantasy worlds, but with one common goal: finding out how an epic saga tastes. Instead of choosing a menu, the next themed party could choose a world to explore through different courses.

Tag

d