Posted on 10 October, 2022
Behind walls and gates, there's a hidden explosion of colors, smells, and memories. Traditions, history, and innovation merge in Ferrara's courtyards and private gardens, which open to the public for two days every year. The initiative is called Interno Verde, and began in 2016, promoted by ilturco association, since then attracting thousands of visitors. Set 100 km northeast of Bologna in Italy's Emilia-Romagna region, Ferrara is known for the lavish Renaissance-era buildings constructed by the House of Este dynasty, who ruled the city for three hundred years in the Middle Ages. 
In 2022 Interno Verde took place on the 17th and 18th of September. During these two days, one could see people biking around the town, walking its cobblestone streets in the city center, or traversing its tree-lined avenues with a map in their hands, wearing a distinctive purple bracelet.
Every year, by purchasing the event ticket, participants get the bracelet that allows them to access Ferrara's enchanted courtyards and gardens, a map to the city, and a book (free with the online reservation), which is one of the event's sharpest promotional devices. It is both a guide to learn more about each garden and a sticker album to collect stickers unique to every location. From children to adults, the stickers turn Interno Verde from sightseeing to an actual treasure hunt, whose aim is to complete the album. In addition to that, a QR code on the map allows visitors to access a free audioguide: a real immersive experience in the city's greenery.
The Garden of Love
Fifty-two gardens were included in the 2022 event, and two days were barely enough to admire them all. To give you a glimpse of what animated the city on the weekend of 17th-18th September, here are some of its most exciting discoveries and encounters.
Starting with Palazzo Schifanoia, or garden number 41, one of the best-known palaces in Ferrara. Thanks to the Cycle of Months frescoes, adorning its Hall of Months, Palazzo Schifanoia is the location that attracts most visitors to the city, right after the Estense Castle. However, it is not only its paintings, sculptures, or the Renaissance atmosphere that make the palace fascinating, but also its garden, known as the Garden of Love. Under its hazelnut trees, American sweetgums, magnolias, and a giant cherry tree, benches and small tables create an intimate atmosphere. Visitors can sit and admire their surroundings while sipping tea, a hot chocolate, or reading a book. Not surprisingly, this garden inspired writers: the Interno Verde book reminds guests that Scottish author Ali Smith took inspiration from this place to write her 2014 novel How to Be Both.
This green space is open from Tuesday to Sunday, from 10 AM to 7 PM.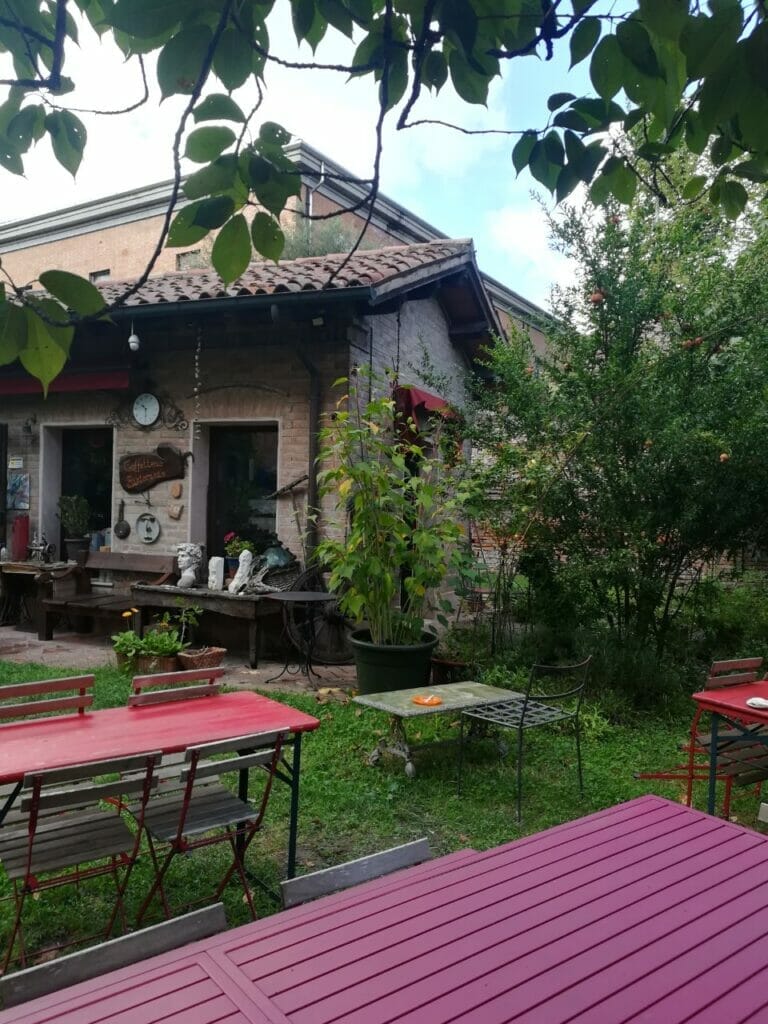 Palazzo Schifanoia, during the 2022 event, also hosted an "itinerant" contemporary dance show. Spectators purchased tickets separately, but some lucky visitors had the chance to watch part of it in the Garden of Love. Fondazione Nazionale della Danza / Aterballetto produced the show, choreographed by Gigi Cristoforetti and Roberto Tedesco, which consisted of a cycle of performances exploring the meaning of dwelling and of relating to the other. Watching bodies moving in and around the garden, and inside the palaces' halls, contributed to animating the event.
Retracing the life of Bassani
The Italian Jewish author and anti-Fascist activist Giorgio Bassani was a native of Ferrara, and his 1962 novel, The Garden of the Finzi-Continis, or Il Giardino dei Finzi-Contini, is a love story and social drama set in wartime Italy against the backdrop of Mussolini's Fascist regime. A garden where he met his wife while playing tennis allegedly inspired his book, and the gardens of Interno Verde are full of references to his life and work. Even if more than one garden claims to have inspired THE garden, the setting of his masterpiece, the mystery remains unsolved. Perhaps, it was his intention. However, one can find, scattered around the city, intriguing facts and anecdotes about him and his best-known novel.
Palazzo Scacerni, garden number 29, for instance. Unimaginable from the street, its gates hide a small but stunning courtyard. One can imagine how intellectual life could thrive there amid bunnies, ash trees, oleanders, and rose bushes. Authors such as Giuseppe Ungaretti, Eugenio Montale, Luchino Visconti, and Dino Buzzati spent time here, hosted by the Ravegnani family.  Bassani himself wrote and studied there after he had to leave the Biblioteca Ariostea because of the 1938 racial laws. Inside the palace, there was a well-equipped library, and the beautiful frescoes on the ceilings are still visible from the courtyard when the windows are open.
In addition to studying, Bassani loved playing tennis, as Il Giardino dei Finzi-Contini reminds readers. The Tennis Club La Marfisa, or garden 31, is proud to have had the writer amongst its members. The red color of the tennis courts contrasts with the surrounding greenery; a portico, where players can rest and find shelter, completes the view.
The club's name owes to the neighboring palace, Marfisa d'Este, to whose garden (number 30) the fields connect. Here a well, a portico, and a fountain with a putto blend with the vegetation of bay trees, magnolias, and ginkgo. Marfisa d'Este is today part of Ferrara's city museums and is open from Tuesday to Sunday (9:30 AM-1 PM, 3 PM-6 PM). Bassani, however, could not benefit from these spaces for long: as with Biblioteca Ariostea, all the Jewish members of the tennis club had to leave in 1938. During the war, the club became a military base.
The Garden of Questions
The story of Bassani in Ferrara is thus one of mixed joys and tragic endings because of his Jewish origins and antifascist militancy. In 1943 he was imprisoned in the city jail in Via Piangipane 81. There, today, stands the MEIS, the National Museum of Jewish Culture, and the Shoah.
The MEIS, too, opens its courtyard to the public during the two-day event of Interno Verde. Called "the Garden of Questions," its paths guide visitors through a discovery of Jewish cuisine: there are three main itineraries that, if followed, explain how to cook eggs, meat, and fish, which seasonings to use, and which ingredients are allowed. Visitors can touch and smell various herbs and spices that, positioned in wooden stands, create a sort of labyrinth. In spite of its sad origins, the museum has managed to give back to the place vibrancy and harmony. It is open from Tuesday to Sunday, 10 AM-6 PM.
…And much more
Each garden and courtyard is unique, having its own history and anecdotes: from a backyard set to music, to a park that has become a horticultural association, from a courtyard next to a center for the promotion of sustainability in the city, to a private garden where the gardener loves experimenting with new vegetable species. The diversity is great, both within and between gardens. Most of them are part of private houses or belong to palaces that are not accessible during the year. Others, however, are open all-year round, such as Palazzo Schifanoia, Palazzina Marfisa d'Este and the MEIS.
Interno Verde has proved so successful in recent years that the social and cultural association ilturco has also promoted it in other cities: in Mantova since 2019 and in Parma since 2021. In this way, the chance to immerse oneself in urban green has multiplied. All one needs is a purple bracelet, a map, comfortable walking shoes, and a sense of curiosity.
d