Postato il 31 Dicembre, 2021
2022 is here.
In 2021 Hypercritic has started its Poems and Comics sections, as part of the Read category, and oversaw the production of the international reading Marathon dedicated to the 88 women who have changed the world with their poetry.
Our Hypercritics asked booksellers across Italy for book recommendations to inspire readers in 2022. Either new publications or a book from the past can help to overcome limits and take a different approach to everyday life.
The first stop of this literary journey is in Turin, in a magic place very dear to Hypercritic.
La Misura Eroica | Libreria Borgopo' – Turin
Just a few steps from the center, on the other side of the river, lies Libreria Borgopo', a charming bookshop in the quiet neighborhood of Borgo Po.
Between beautiful books and a collection of rare tarot decks, the atmosphere is magical and cozy, thanks to Alberta, the owner, and Roberto. You can meet also her parents, Lidia and Beppe, an art collector, and chat with them in the fairy-tale atmosphere of the courtyard, a typical casa di ringhiera in this lively and authentic area of Turin, dotted with small restaurants, craft stores, florists and delicatessens.
Libreria Borgopo' opens its garden to the public to present books and meet their authors. Hypercritics like to hang out and have meetings here, inspired by books and friendship with Alberta and her lovely family.
It is therefore Alberta to suggest the first book to enjoy in 2022:
Andrea Marcolongo's La Misura Eroica, through Le Argonautiche of Apollonio Rodio, tells us that if we want to achieve something and make our dreams true we need to take some risks, leave our safe harbor and hit the road. However, the road is not made of smooth paths. Choices need to be made. You must be courageous, and embrace the change. Through the myth, this book becomes a motivational experience.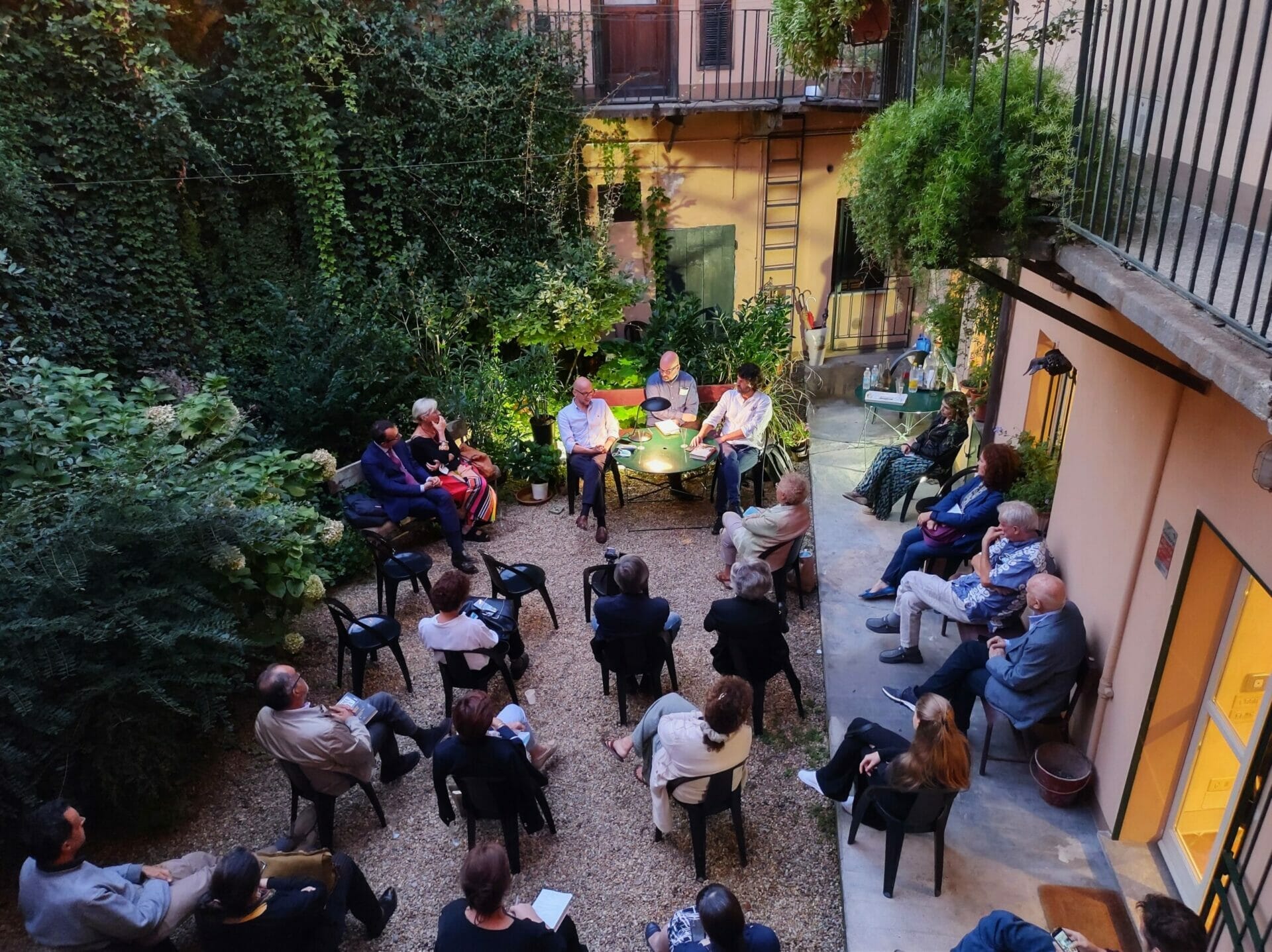 Questo immenso non sapere | Piccola Farmacia Letteraria – Florence
Elena Molini, owner and creator of Piccola Farmacia Letteraria, prescribes Questo immenso non sapere by Chandra Livia Candiani to inspire 2022. The book's subtitle reads Conversations with Trees, Animals, and the Human Heart. A book to discover everyday wonder, a path to find oneself.
The Piccola Farmacia Letteraria is unique: every book comes with a little guide to orientate the readers' choices. Such as drug prescriptions, these leaflets give the readers information, dosage, and side effects. The goal is indeed to heal souls and minds through literature.
Candiani was among the 88 women poets included in the first Hypercritic Poethon – the poetry marathon that involved 141 readers speaking 28 languages who read the works of women poets from 50 different countries.
Here is the reading of the Candiani poem La Bambina Pugile by Italian scriptwriter and novelist Sara Benedetti. Benedetti's latest book is Sulla Cattiva Strada, published by Nottetempo in 2021.
Il calamaro gigante | Nutrimenti – Procida
One of the four islands of the Flegrean archipelago set in the Gulf of Naples, and only four kilometers square, Procida maintains a genuine Parthenopean soul. In a small street near the harbor, you can run into the Nutrimenti bookshop. It is an unmissable stop for book lovers and visitors who want to enjoy the beauty of the island and the sea. Leonardo Ambrosino, bookseller at Nutrimenti, suggests the reading of Il calamaro gigante by Fabio Genovesi.
Siamo carne e ossa, sì, siamo sangue e nervi e qualche vestito addosso che cambia con la moda, ma soprattutto siamo mare.

We are flesh and blood, yes, we are blood and nerves and a few clothes on that change with fashion, but mostly we are sea.
Every year the island hosts MARetica, a festival that combines culture, sport, and nature to rethink humanity starting from the perspective of the sea. Procida will also be Italy's Capital of Culture for 2022, offering a rich program of events with artists and people from all over the world.
Con penna e taccuino | Libreria Bari Ignota – Bari
Con penna e taccuino. La pagina scritta è la nostra risorsa by Gianfranco Dioguardi is a vademecum of reflections on current events and the future. The author is a businessman, a bibliophile, and a book illuminator who has critically questioned himself on the challenges that are just around the corner. His book offers advice on how to remain standing amidst the rubble and, above all, amidst the darkness on the horizon. LB Edizioni is based at the Libreria Bari Ignota, born in the southern region of Italy to reissue past books.
One of Hypercritic's missions is to create a collection of cultural and artistic objects and experiences where all items can find connections to other cultural worlds and today's most relevant themes.
A Woman in the Polar Night | Ubik – Cagliari
Some people have best friends. Others also have a favorite bookseller. This is the case of Valeria Usala, Hypercritic's TV Shows Editor and author of La Rinnegata, and Maura Lusci, bookseller at Ubik, Cagliari.
Maura suggests A Woman in the Polar Night by Christiane Ritter. This is an intense and exciting book—a diary of adventure and a casket full of thoughts of the author. In 1934, she joined her husband in the most inaccessible place in the world, beyond the Arctic Circle.
The Svalbard Islands, with their extreme temperatures that drop as low as -30°, the blizzards, and the struggle for survival, are the protagonists of Christiane's story, in addition to a hut that offers little shelter, silence, and solitude.
To find their balance, humans need nature. They need to immerse themselves deeply in it, relate to it, and breathe its rhythm to find themselves again.
Hypercritic delves into this urgent and universal issue too, through the many records featured under the Away From Society tag.
A Time of Gifts | L'Orsa Minore – Pisa
The bookseller Nicolò Gaudino was a student of prehistoric archaeology who loved fencing and traveling alone on his motorcycle. After crossing the world, in 2011, he returned to his hometown Pisa, Tuscany, to open L'Orsa Minore, a bookstore dedicated to travel literature, guides, and maps.
A mountaineer's backpack, an old military coat, heavy boots, notebooks to fill in, and the Oxford Book of English Verse. Patrick Leigh Fermor is a student because he can not write "vagabond" in his passport. He left home at 18 years old, in December 1933, with the aim to cross Europe and reach Constantinople. From the notes jotted down in his notebooks an intense book of discovery will come to life after more than 40 years. A Time of Gifts makes visible infinite places and perspectives in the mind of the readers.
A mountaineer's backpack, an old military coat, heavy boots, notebooks to fill in, and the Oxford Book of English Verse. Patrick Leigh Fermor is a student because he can not write "vagabond" in his passport. He left home at 18 years old, in December 1933, with the aim to cross Europe and reach Constantinople. From the notes jotted down in his notebooks an intense book of discovery will come to life after more than 40 years. A Time of Gifts makes visible infinite places and perspectives in the mind of the readers.
It's the story of a humble traveler who offers his constant curiosity and attention in return for the offer the world makes to him. It's a book to keep close, to read as if it were a traveling companion.
Il Nastro | Il Giardino Incartato – Rome
In Rome, Il Giardino Incartato is a bookstore full of illustrated books, graphic novels, and fiction for children and teens. The desire of the booksellers is then to share with everyone the wonder of these works, in which literature and illustration meet with elegance, unpredictability, wisdom. Just as reading builds bridges, playing is also a way to be together. For this reason, the bookstore has also a space dedicated to games: wooden games, board games, games for inventing, drawing, and transforming oneself into whatever one wants.
A small book in which the contrast between blue and yellow predominates. Adrien Perlage's Il Nastro is an elegant and refined work. Stylized figures move between pages animated by a ribbon, which at the beginning looks like a bookmark. Then turns into a mouse's tail, a gymnast's ribbon, the thread of a kite. Thanks to the yellow ribbon, these paper stories come out into the real world.
The Night Watchman | Libreria Arcadia – Rovereto
First in Rome and then in Rovereto, Libreria Arcadia has been in the business for almost thirty years.
Their goal is to welcome every reader: the novice and the expert, the occasional reader, and book lovers offering them assistance.
We do this work to know and know each other.
Presentations, events and reading groups, the Arcadia Bookshop is a garrison for every reader.
Arcadia Bookstore's reading suggestion is topical: Louise Erdrich's The Night Watchman, the 2021 Pulitzer Prize winner. The story is based on the life of the author's grandfather, a night watchman. He was also an activist who promoted the campaign against the termination bills that meant to assimilate Ojibwe people into broader American society.
This book is written in an elegant prose, in which caustic and sly humor emerges at times, lurking between the pages like a cougar and confirming the boundless talent of one of America's most gifted writers.

There is another reason why Louise Erdrich is so dear to us: in Minneapolis, Minnesota, she owns a bookstore specializing in Native American history, literature and art. Birchbark Books, like us and our friends at the Raven Book Store fair, believes in the power of good writing. Just like us, these bookstores are committed to defending books and themselves from a monopoly that is more than a threat.
The Little Book of Makeup in Venice | Linea D'Acqua – Venice
Antique books, first editions, maps, and views of Venice by Venetian old masters. This is the antiquarian bookshop Linea d'Acqua, in Venice. In addition to its soul linked to the past, the publishing house lineadacqua publishes, as they say, high-quality books that spread ideas, cultures, and business around the world.
They suggest reading The Little Book of Makeup in Venice. Through it, readers will see Venice as the protagonist of the world of beauty in all its forms, not only that of its immortal art but also that of its ladies who have become the stuff of legend. The result is an image of a city at the crossroads of cultures, fashions, and trade, ready to recognize new trends and anticipate and establish them.
Fashion will also be one of the future sections of Hypercritic Experience.
Mastro Geppetto | Koinè Ubik Libreria Internazionale – Sassari
Aldo Addis, owner of Koinè Ubik Libreria Internazionale and deputy president of the Italian Booksellers Association (ALI), recommends a book with an unusual point of view.
The story of Pinocchio is well known, but Fabio Stassi's Mastro Geppetto overturns it and tells about Geppetto as a brave father who wants a son at all costs and dedicates his whole life to this dream. Aldo recommends this book because it's full of emotions. "Readers – he says – can find feelings that they have inside and around them".
These, then, are Hypercritic's reading tips for 2022. We hope you enjoy them.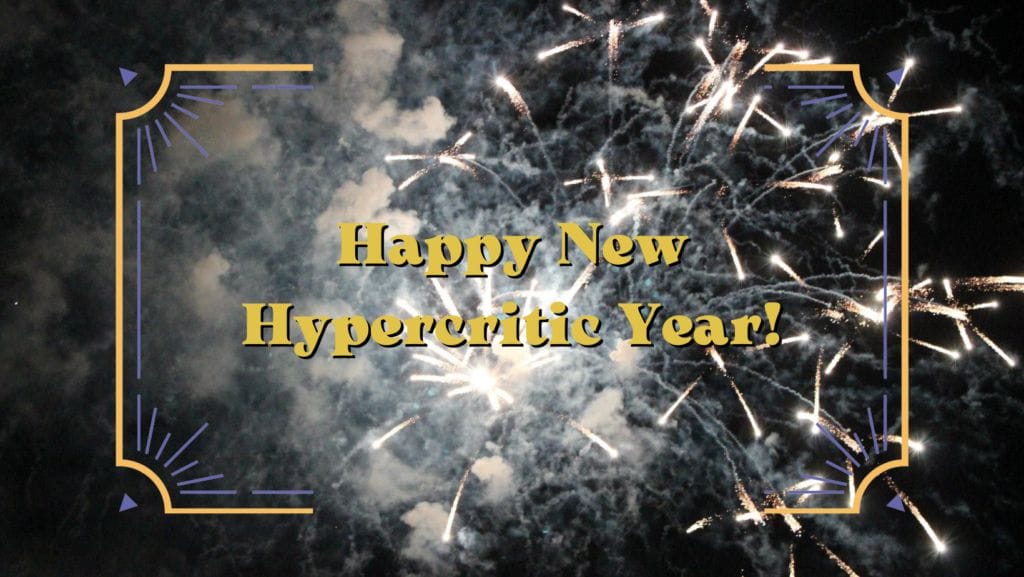 The Hypercritic Staff thanks Libreria Borgopo', Piccola Farmacia Letteraria, Nutrimenti Procida, Libreria Bari Ignota, Libreria Ubik Cagliari, L'Orsa Minore, Il Giardino Incartato, Libreria Arcadia, lineadacqua, Koinè Ubik Libreria Internazionale and their booksellers for their kind avaiability in this busy month of December. Prosit!

Giulia Avataneo, Hypercritic's Editor in Chief, and Clara Gastaldi, Deputy Editor-in-Chief, co-wrote this article, and together with Hypercritic founder Alessandro Avataneo send you all the best wishes for 2022: may this new year bring health, inspiration, change, achievements, new challenging paths, limits pushed further, and bring us closer to being more and more the people we want and choose to be.

d