Posted on 18 September, 2023
Nestled deep within the mountains of southeastern Colorado is the small town of Telluride, home to one of the most prestigious film festivals in the world. It's also one of the most exclusive – not only is it geographically difficult to reach, but the festival is completely absent of press. This leaves just filmmakers, volunteers, pass holders, a few student groups, and Telluride locals. All of the above can be classified as die-hard cinephiles.
Part of what makes Telluride unique is the tradition of announcing film line-ups on the day the festival actually begins. All who come are in for a surprising schedule of never-before-seen restorations, brand-new releases, beloved classics, and more. It's a festival for the love of cinema. 
The general absence of performers this year was palpable, though the support for SAG-AFTRA and the WGA as they continue in their historic months-long strike was just as obvious. Also sorely missed were festival organizers Tom Luddy and Bill Pence, who passed away earlier this year. Both men were honored throughout the five-day event, from August 31 to September 4. It was as if they were present, certainly in spirit, even for those of us who never had the opportunity to meet them.

The Student Symposium
Practically the only people for whom 2023 was their first year of attendance were the members of the Telluride Student Symposium. Each year, fifty university students are selected from schools all over the United States and Canada, with majors of study ranging from film to neuroscience, criminology, and astrophysics. What unites these fifty strangers is a shared love of film. The leaders of the Student Symposium curate a festival schedule for the students to follow for the weekend, filled to the brim with group discussions, special Q&As with filmmakers, and, of course, movies. This year's schedule did not disappoint.
As one of the fifty students engaging in the symposium, I can attest to the cult-like fervor of the festival. It is wholly unique, and currently in its golden age, 50 years into the magic. It was only right, then, that the supermoon graced the slopes of Telluride this year along with the lights of the projectors.
Highlights of the New Releases
It would be a challenge to list all of the films shown at Telluride this year; boasting more than ten makeshift screening venues across town and showing nearly 40 films a day, this festival proves that it is truly by and for cinephiles. Major new releases at the festival included the following:
Yorgos Lanthimos' highly anticipated femme Frankenstein tale starring Emma Stone, Poor Things, premiered at the 80th Venice International Film Festival before delighting audiences at Telluride. Lanthimos was one of three directors given tribute at Telluride's 50th anniversary and was presented the Silver Medallion before an on-stage interview and screening of Poor Things. His movie, as one would expect, toys with the absurd and the grotesque; through these devices, he raises pertinent questions about the socialization of women today (leading to the playful nickname of "Dark Barbie" by the student symposium).
Alice Rohrwacher, another recipient of tribute and the Silver Medallion, screened her newest, La Chimera, starring Josh O'Connor in a quietly mythic story of tomb-raiding and katabasis. In her onstage interview before the movie, Rohrwacher discussed the relevance of Etruscan history in her life, as well as humankind's ongoing conversation between the past and the present. Though her previous feature-length works have not included music, La Chimera is full of different kinds; speaking as a fan of her work, it's exciting to observe how her pacing and cinematic lyricism adapt to this new element. An exploration of Orpheus in the modern age seems like a somber project, but La Chimera surprises with its delightful undercurrent of play.
Wim Wenders was the third recipient of tribute, and two of his latest movies played at Telluride: Anselm, a documentary and study of German painter Anselm Kiefer through immersive 3D visuals, and Perfect Days, a fiction movie entirely in Japanese following a mesmerizing performance by Koji Yashuko as a man appreciating the day-to-day.
Andrew Haigh's All of Us Strangers premiered at Telluride to incredible acclaim. Andrew Scott, Paul Mescal, Jamie Bell, and Claire Foy tell a dream-like ghost story of tangled personal history and healing. When talking with the student symposium, Haigh shared that the production took place in his real childhood home and that All of Us Strangers is a story both nakedly personal and cosmic. It is a story of love – between child and parent, between past and present, and among strangers.
About his years-in-the-making movie The Zone of Interest, Jonathan Glazer said he hopes "it makes audiences feel unsafe." The movie focuses entirely on the daily life of the Hoss family, as they play, swim, and sleep adjacent to Auschwitz. We never cross the wall that separates the Nazi family from such suffering – Glazer shared with the symposium that he was intentional about avoiding shots he felt would be exploitative to film. Instead, Glazer set up five still cameras in the Hoss house and let the actors perform, utilizing only natural lighting and very little music. The result is a chilling rumination of the banality of evil and a timely reflection that implicates us all. 
Anatomy of a Fall, Justine Triet's winner of this year's Palm d'Or at Cannes, stars Sandra Hüller in a stunning portrayal of a woman who, in the aftermath of her husband's death, is under siege – by the law, by the media, and by her family. Triet spoke to the students about her unconventional approach to courtroom drama, and the many elements of the story she had to balance in order to sustain the question of guilt. Anatomy of a Fall stands out among murder mysteries for its focus, ultimately, on the complexities and deterioration of a marriage.
50 years after Augusto Pinochet's coup d'etat in Chile, Pablo Larrain tells a black comedy about the violent dictator – but in El Conde, Pinochet is a centuries-old French vampire who's ready to die, and the voice-over for the machinations among the Pinochet family is provided by none other than Margaret Thatcher. In conversation, Larrain revealed that he and Ed Lachman took turns operating their made-to-order monochrome camera to create the breathtaking black-and-white imagery that pays homage to earlier vampire films, like Nosferatu (1922). The comedy is biting, and the gore chilling, but above all else, El Conde warns us that evil never really dies – it just shapeshifts and begins again.
Telluride Gems
Telluride offered a variety of unique cinematic experiences, such as the restoration of Idrissa Ouédraogo's Yam Daabo (1986). The world-renowned director's intimate depiction of a family navigating life in the city and countryside was restored by The Film Foundation's World Cinema Project and Cineteca di Bologna at L'Immagine Ritrovata laboratory, in collaboration with Les Films de la Paine and the family of Idrissa Ouédraogo. It was a joy to see the landscapes of Yam Daabo in such color and beauty. For their dedication to preserving and celebrating movies, The Film Foundation was this year's recipient of the Special Medallion.
Another showing of note – and a personal favorite – was the accompanied screening of Georgian director Kote Mikaberidze's silent satire, My Grandmother (1929). Alice Rohrwacher introduced the Finnish experimental band Cleaning Women to the stage where they accompanied the hour-long movie without a single sheet of music. Not only is My Grandmother riotously funny, but the surrealist tricks Mikaberidze plays on the audience are visionary. This kind of screening follows a growing trend in American independent theatres and festivals, which aims to revive silent movies and make them poignant for today's audiences.
It was a treat to catch a special screening of The Golden West by Ross White and Tom Berkeley, the writing-directing duo known for last year's Academy Award-winning short, An Irish Goodbye (2022). The Golden West follows two sisters searching for gold in the wake of the Irish famine; it's a vicious fable of greed and hunger set against the brutal beauty of North Wales. In the Q&A following the short movie, White and Berkeley shared how their theatre backgrounds shaped their approach. The duo is one of several playwrights-turned-screenwriters at Telluride this year, alongside Annie Baker with Janet Planet, Tina Satter with Reality, and Christy Hall with Daddio.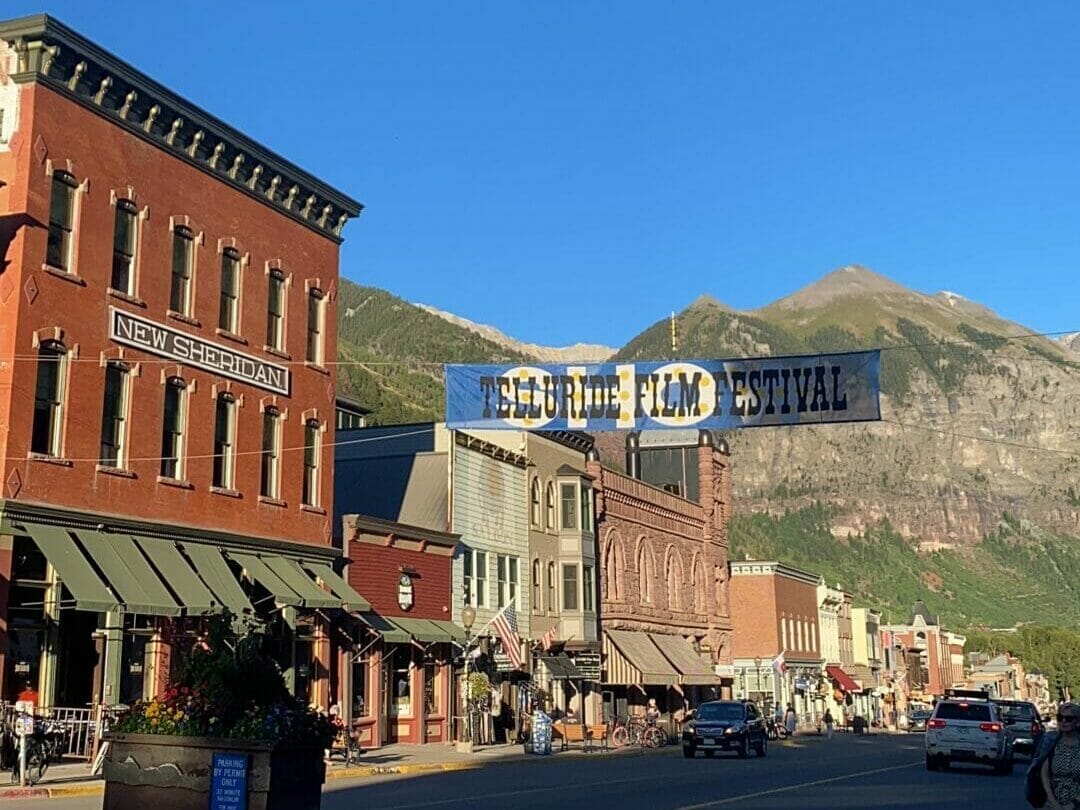 The Next 50 Years
It was an honor to participate in the 50th Telluride Film Festival alongside so many earnest and thoughtful students. Already, there is talk of returning next year to volunteer, following in Barry Jenkins' footsteps. With festival director Julie Huntsinger at the helm and hundreds of dedicated volunteers working to make the magic happen, it is certain that the next 50 years for Telluride look just as promising.

d