Posted on 02 August, 2023
At Tenoha Milano, between the Navigli and the Darsena, an evocative area where old canals meet modern architecture, there is a portal that leads to Tokyo, to a hidden Japanese temple. In this shrine, the stories of brave Samurai Women, who fought to save their ideals and collectivity, pulsate with life.
After the success of its last exhibition, Ghosts & Spirits of Japan, Tehona Milano, a multi-purpose space of over 2,500sqm that includes a concept store of Japanese products, a restaurant, and a bar, together with the Italian publisher Ippocampo Editions, created a new immersive one. It's called Stories of Samurai Women and is inspired by the homonymous book by Benjamin Lacombe with texts by Sébastien Perez. This exhibition tells the life of brave women warriors from the Japanese tradition. Although these stories are significant in ancient history and culture, they never received the recognition they deserved from the general public. This exhibition running until Nov. 26, 2023 (it will be closed Aug. 7-31) will be a good opportunity to do that.
Onna-bugeisha as the female Samurai's counterpart
The protagonists of the exhibition are the Samurai Women seen through the imagery of illustrator Benjamin Lacombe. During a multi-sensory journey, the audience will discover that the code of the samurai noblemen also belonged to women. The public will become familiar with the onna-bugeisha, a female warrior belonging to the nobility in feudal Japan. These women represented the counterpart of the male samurai and often fought alongside them. Samurai women trained themselves in the use of weapons and martial arts to protect their homes, their families, and their pride in times of war.
When a war started, they had two options: to stay home and defend it from invaders or to follow their husbands into battle. They, too, wore samurai armor (yoroi). However, the uniqueness of the onna-bugeisha lay in not concealing their femininity but rather making it almost a boast. In fact, it is told they did not even wear the traditional helmet (kabuto) as if to say to the enemy: it is a woman who fights so fiercely. According to written tradition, the hair of the onna-bugeisha was long, combed with perfumed oils, and collected in one or more braids gathered by a white bandana and often adorned with flowers or brooches. The skin had to be pale, and they dabbed their face with rice powder to symbolize grace, even in battle.
The seven Women Samurai
Unfortunately, the stories of these relentless female leaders ready for any sacrifice seldom reached the fame of their male counterparts. Women Samurai rediscovers and enhances this buried knowledge. The heroines recounted are seven: Gozen, the sisters Miyagino & Schinobu, Yamamoto Yaeko, Nakano Takeko, Kaihime, and Tsuruhime. The exhibition brings to life these samurai women through animations, sounds, perfumes, and impactful set designs.
 

 

Visualizza questo post su Instagram

 
Tomoe Gozen, the extreme sacrifice
Tomoe Gozen is one of the greatest examples of onna-bugeisha. She fought alongside General Minamoto Kiso no Yoshinaka around 1184 and, according to some literary traditions, was his consort. Tomoe was beautiful with diaphanous skin and long black hair but also a vigorous soldier and archer worth a thousand fighters. An enemy mortally wounded General Yoshinaka, and shortly afterward, struck down her too. According to the legend, Tomoe found the strength to carry her beloved's dying body to the sea and drowned herself with him, kissing him for the last time.
I flee as I have never done in my life, as I hold you tight against my chest (…) I stop only when I have reached the sea: I hear it calling me. I lift your head and kiss it one last time. The blue expanse awaits us, there we will be united forever.

Storie di donne samurai, Sébastien Perez and Benjamin Lacombe, Ippocampo, 2023.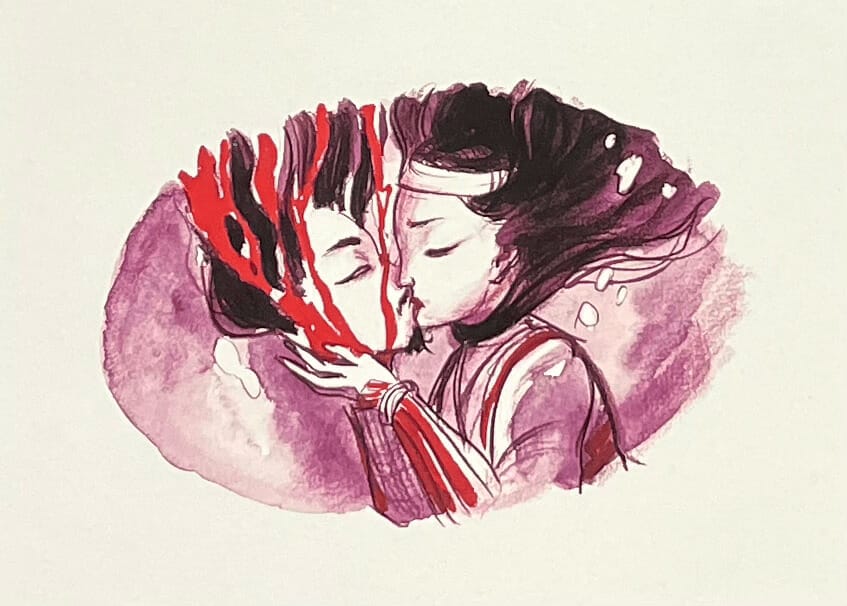 Miyagino & Shinobu, the revenge sisters
The story of sisters Miyagino & Shinobu could have inspired Quentin Tarantino's Kill Bill. During the Edo period (1603 to 1868), the two sisters claimed the death of their innocent father killer, samurai Shiga Danshichi. However, in their society, revenge was strictly regulated, and only on rare occasions, women could perpetrate it, as in the case of lack of a male heir. Together with their mother, the three women trained in the use of weapons for years. Eventually, they succeeded in avenging their father and then became Buddhist nuns.
Miyagino extended her delicate hands toward those of her sister, but Shinobu shunned her reluctantly. She was no longer accustomed to caresses. In a melodious voice, the geisha tried to console her, urging her to seize the opportunity to escape that fate of misery.

Storie di donne samurai, Sébastien Perez and Benjamin Lacombe, Ippocampo, 2023.
Yamamoto Yaeko, the Japanese Mulan
Yaeko's father and brother were both samurai. She took part in the defense of Aizu Castle disguised as a man, just as Hua Mulan, the Chinese heroine who inspired the Disney film. Once she survives the siege, Yaeko leaves for Kyoto, converts to the Christian faith, and becomes a healer to escape the ghosts of war.
The war is over-I am leaving Aizu to find myself and a sense of peace in Kyoto. I want to get away from the past and my actions even though I know those images will never leave me again.

Storie di donne samurai, Sébastien Perez and Benjamin Lacombe, Ippocampo, 2023.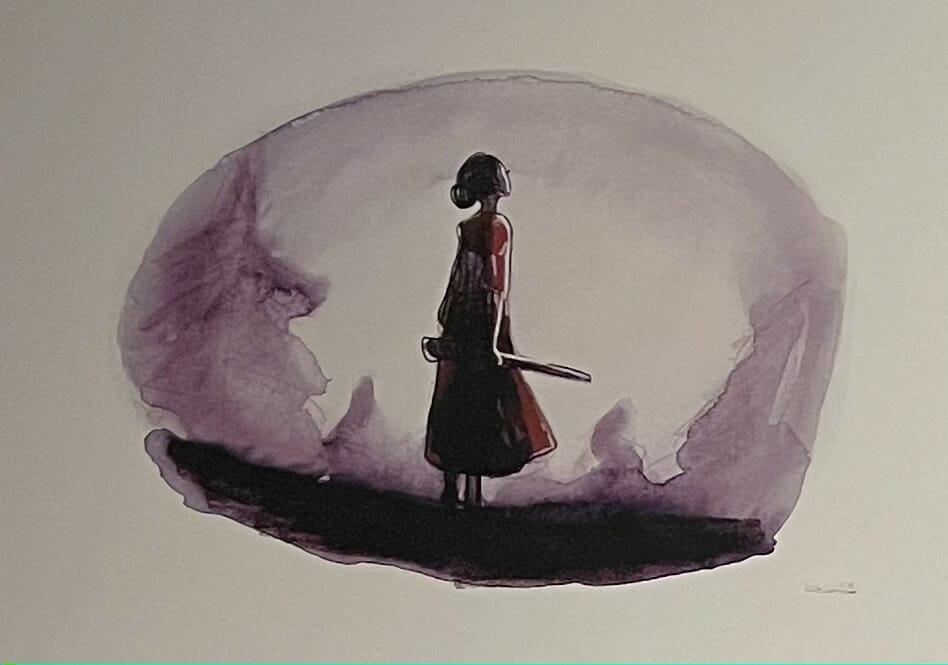 The revival of Japanese culture
With Stories of Samurai Women, Tenoha Milano aims to provide immersive entertainment by welcoming audiences to an increasingly dynamic area of Milan.

The goal is to raise awareness through initiatives and projects with a theme of Japanese culture with its many facets. Japanese culture has fascinated Western culture for centuries. This exhibition enhances its millennial history and traditions with technology and innovation. Stories of Samurai Women is a practical example of the fusion of these two components, which through animated images, evocative sounds, and breathtaking graphics, give an almost magical experience that lies on the edge of the real world.

d