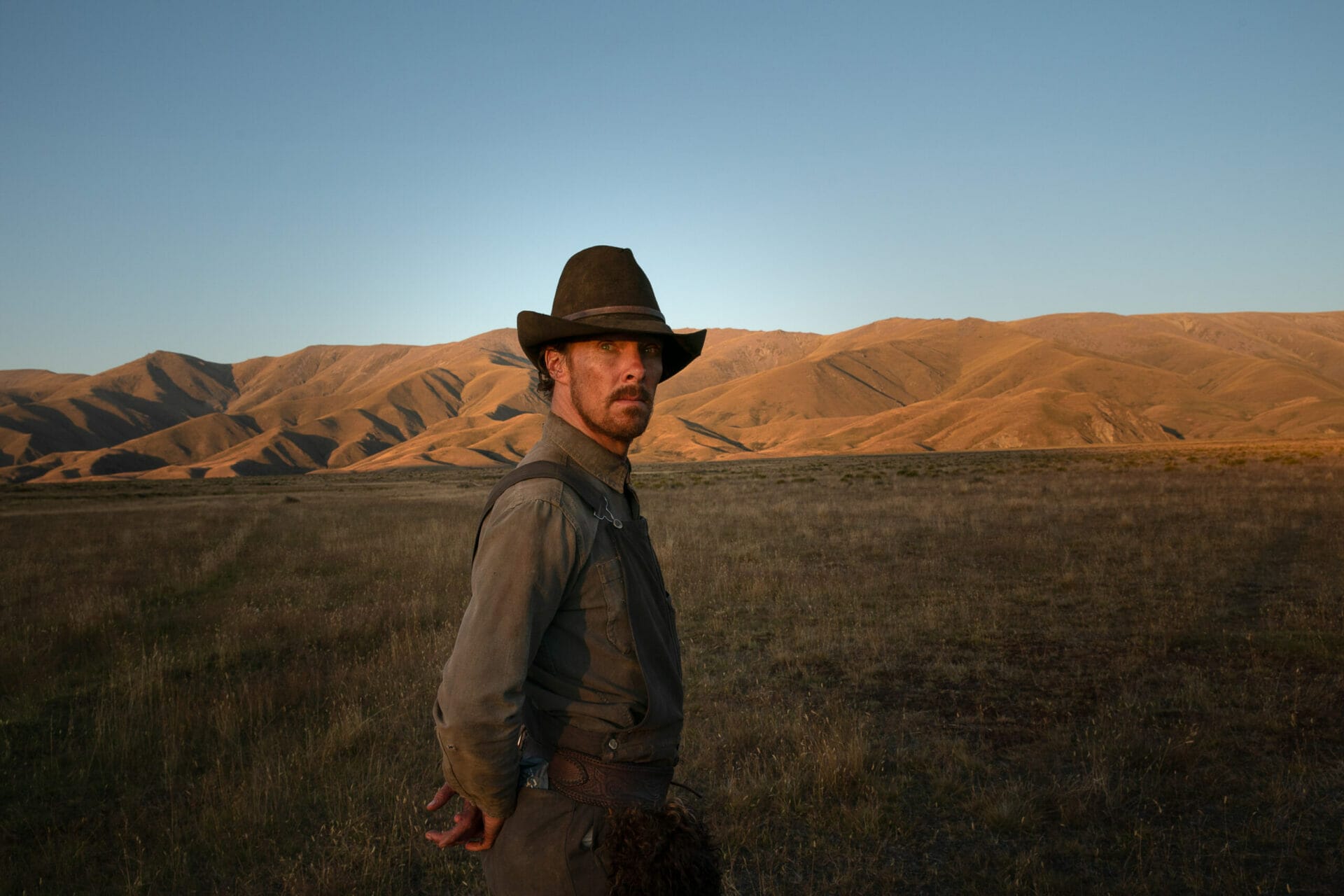 The Power of the Dog | Human Depths Barking
More Info
Deliver my soul from the sword; my darling from the power of the dog.

Book of Psalms (KJV), Psalm 22:20
Black screen. The Power of the Dog begins with the eerie sound of a cello's plucked strings introducing a boy's voice-over. "When my father passed, I wanted nothing more than my mother's happiness. For what kind of a man would I be if I did not help my mother? If I did not save her", he states.
The viewer gets instantly immersed in the blazing hot, dry land of the vast western state of Montana in the early 20th century. A herd of steers kicks up dust on the ground. Cowboys yell and whistle. Two cows press their foreheads against each other. They glare at each other. We do not see which one prevails. A third cow, much larger, firmly separates them putting an end to the fight.
Filmmaking is a subtle art, made up of precise joints. It is an extraordinary exercise in esthetics in which there are rarely any missteps. Not a single image that appears on the screen comes by chance. Especially when dealing with New Zealand director Jane Campion. The first woman with two Academy Award nominations for Best Director, Campion's filmography has accustomed viewers to understanding her work as a personal compendium. Her movies are intimate compositions that often disclose, behind the images, the emotional fabric and narrative urgencies of the person telling the story. And in this single fragment that lingers on the three cows, Campion encapsulated the essence of The Power of the Dog.
This is not a story about heroes. It's a merciless head-to-head between the unexpressed and repressed depths of the human being that bark like a rabid dog to come out.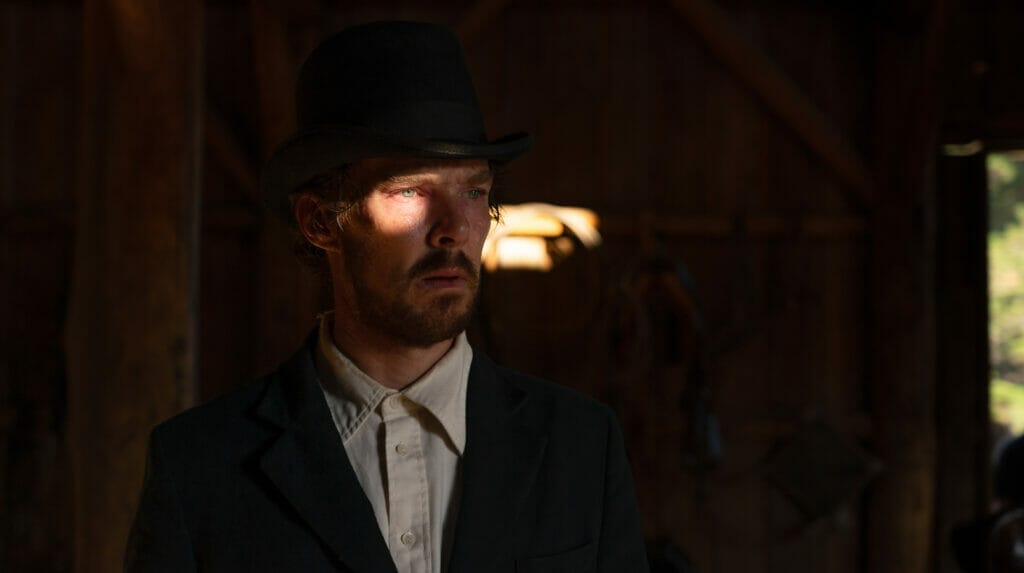 "There were real men in those days"
Montana, 1925. The Burbank brothers are two remarkably different wealthy ranchers. Phil (Benedict Cumberbatch) is a cowboy of wild, animal-like charm. Intelligent, stern, and sharp-tongued, he instills reverential awe in anyone who crosses his icy gaze. In contrast, George (Jesse Plemons) is restrained, quiet, and kind to others. One day, the two stop at an inn where they meet widowed owner Rose (Kirsten Dunst) and her enigmatic son Peter (Kodi Smit-McPhee). George falls in love with Rose and marries her, bringing her and her son home with them. These immediately enter the crosshairs of Phil's ruthless mocking. It is the outbreak of a spark destined to flare up into a violent conflict that spares no one and will force everyone to come to terms with their innermost dark places.
Building on Thomas Savage's 1967 novel of the same name, Jane Campion crafts an extremely complex work of art. Indeed, by telling a murky story that addresses a wide range of themes – toxic masculinity; self-repression; psychological abuse; misogyny; dysfunctional relationships; alienation; and more – she proves that she can successfully harness a genre like the Western – so rooted in American history and so imbued with a male gaze – and disrupt it.
The result is a significant new chapter in cinematography. A female gaze story of blurred boundaries, filled with a constant underlying sexual tension. The Power of the Dog is an atypical noir-style Western that incorporates stylistic and narrative features of psychological drama.
Cowboys and Queer Westerns
Campion makes an intense study of cowboy masculinity, especially through the character of Phil Burbank. Indeed, she plays, using every ingredient – a prime example being Phil's heavy, wooly chaps that act as a kind of armor keeping everyone at a distance or even his reluctance to wash – to challenge the Western's rigid notion of masculinity while creating a strong sense of contrast with Phil's unexpressed vulnerability and his being a well-educated man. Most notably, the movie features a strong subtext charged with subtle and often unseen queerness and homoeroticism.
On this thread, The Power of the Dog shares a very specific visual and narrative legacy. More in detail, Jane Campion's movie has several assonances with the poetic, rural, melodramatic, and queer composition nature of American author Annie Proulx's 1997 short story Brokeback Mountain and its 2005 film adaptation by Taiwanese director Ang Lee. Both examples of writing about the American West from a woman's perspective, the two works shine a spotlight on the cowboy figure and the imagery surrounding him, displaying common traits that allow a certain type of redefined genre or visual lexicon to be framed.
For example, both movies exhibit a strong underlying dichotomy between wilderness and civilization. The unspoiled nature of Wyoming in Brokeback Mountain and that of New Zealand in The Power of the Dog – both filmed in long-shot – echo the characters' inner solitude as well as a deeper sense of freedom in expressing their sexual intimacy and desire in an unarmed way. Likewise, they both enact a depiction of the characters' intimate violence on themselves made up of gestures and silences – especially in the characters of Phil Burbank and Ennis Del Mar (Heath Ledger).
In the end then, though radically different, The Power of the Dog can be juxtaposed with other Queer Westerns that helped reframe a genre (with its definition of masculinity), such as Gus Van Sant's My Own Private Idaho (1991); John Schlesinger's Midnight Cowboy (1969); and Andy Warhol's Lonesome Cowboys (1968).
Gestures that make the invisible visible
What emerges early on in The Power of the Dog is the extent to which everything plays out in subtle details, oppositions, allegories, and long minutes of silence. For it is often the images that speak for the characters and the story. Campion proves sensitivity and lucidity in her use of the cinematic medium. Indeed, she uses the evocative power of images to convey to the viewer the characters' state of mind. Above all, in The Power of the Dog, there is a gesture full of meaning. The camera often lingers on the characters' gestures – primarily those of Phil and Peter – which speak for them and help convey a strong sexual charge that runs like a leitmotif through the movie.
Phil's fingers caressing the petals of the paper flower Peter made and then penetrating between the petals. The sensual way he touches Bronco Henry's saddle and mounts on it. The wild and firm way in which he performs the bull's castration, putting the knife between his teeth and completing it with his own hands. Or the way he rubs mud over his naked body. Finally, the pivotal scene in which, slowly and with unusual gentleness, he slides the white cloth with Bronco Henry's initials across his pale chest and onto his lips, then masturbates with it. Hence, even his future words to Peter take on a much broader meaning:
Bronco kept me alive by lying body against body in a bedroll. Fell off to sleep that way.

Phil Burbank (Benedict Cumberbatch)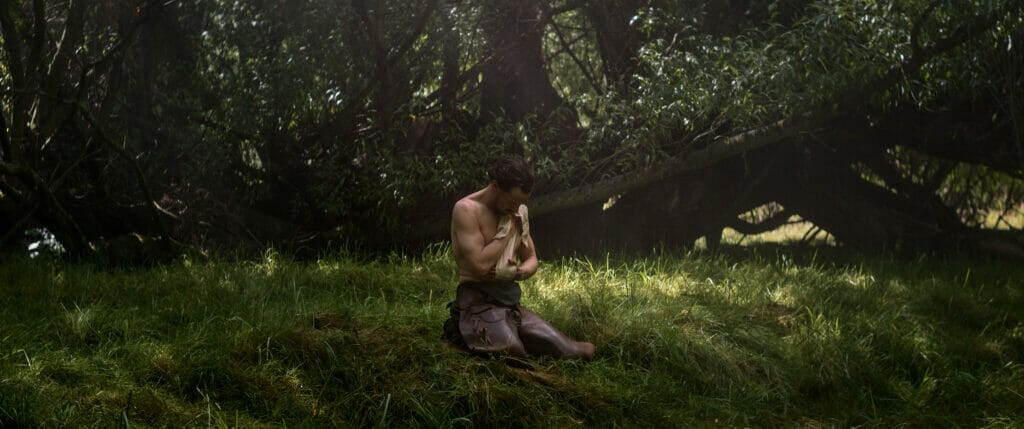 Oppositions and parallelisms
Phil's gestures are not the only ones that gain deeper meaning. Peter's are also significant and especially help to express his opposition. Indeed, the contrast is not only rendered in terms of physical appearance: Peter's extreme thinness or his clothes. The way he combs his hair and his gait are also emblematic – the scene of him walking in front of all of Phil's companions who stop to stare at him is meaningful – both of which stand in stark contrast to Phil's hyper-masculinity.
In this same vein, Campion uses macro details to also establish a parallelism between Phil and Peter. Although Phil is a grown man, he actually exhibits traits that bring him closer to Peter's more juvenile age. Indeed, he still sleeps in his childhood bed and his brother locks him in when he retires to his room with his wife. Everything plays on artistry and subtlety rendered even through editing, such as the scene where Peter does the hula-hoop, and then there is a cut on Phil twirling a chair on one leg.
A female gaze on women's role
One of the major motifs of Jane Campion's movies is her profound feminist analysis of the female condition and women's role in society. Throughout her filmography – from The Piano (1993) to The Portrait of a Lady (1996), to Bright Star (2009) – Campion has used the camera and its narrative power to frame and investigate the multiple emotional landscapes of her strong female characters with singular sensitivity. And she does this in The Power of the Dog as well, through the character of Rose Gordon.
A repressed woman, placed in a very specific and culturally vexatious historical time frame for women, Rose experiences a profound evolution along her narrative arc, unveiling new sides of her. Rose is a multifaceted and articulate woman of extreme fragility. From her depression, pain, and frustration escalating into alcoholism; to her inability to play the piano and never feeling up to it. Rose is a constant victim not only of Phil's teasing but also of her husband's ignorance and limitedness: a kind man but one who subconsciously does not allow her to express herself as she wishes and whom she never seems to be able to impress. Most of all, she is a victim of the machismo culture. And this manifests itself through her words to her son:
He's just a man Peter, only another man.

Rose Gordon (Kirsten Dunst)
Kirsten Dunst succeeds in conveying Rose's inner turmoil without vocalizing it. Her facial expressions are disarming and break the fourth wall. In addition, Rose's transformation also occurs through her costumes. Indeed, costume designer Kirsty Cameron worked to express Rose's transition from a working woman to a lady of the house. Moreover, her clothes take on an even deeper meaning as they serve as a sort of defensive second skin – much like mud for Phil.
Plucked strings, whistled melodies, French horns, and detuned piano
When the viewer first meets Phil, he is introduced by tense, dark, at times disturbing music. That complex, pensive sound comes from the plucked strings of a cello played as if it were a banjo. And it is indeed his beloved banjo that Phil picks up and plucks in the first scene of dialogue. Thus, those strings plucked in such a sinister way become an extension of his darkness, complexity, and pent-upness. Another means for his voice to speak. As does his insistent whistling of the same melody. All of this somehow feeds that sense of mystery that revolves around Phil. Above all, it helps convey his multifaceted personality.
In contrast, his brother George is often paired with simpler, lighter, sometimes sweeter musical tones. This is when he is not overshadowed by his brother's or his wife's musical theme. And even this peculiarity helps to communicate in particular his being a much simpler and more limited man than his brother.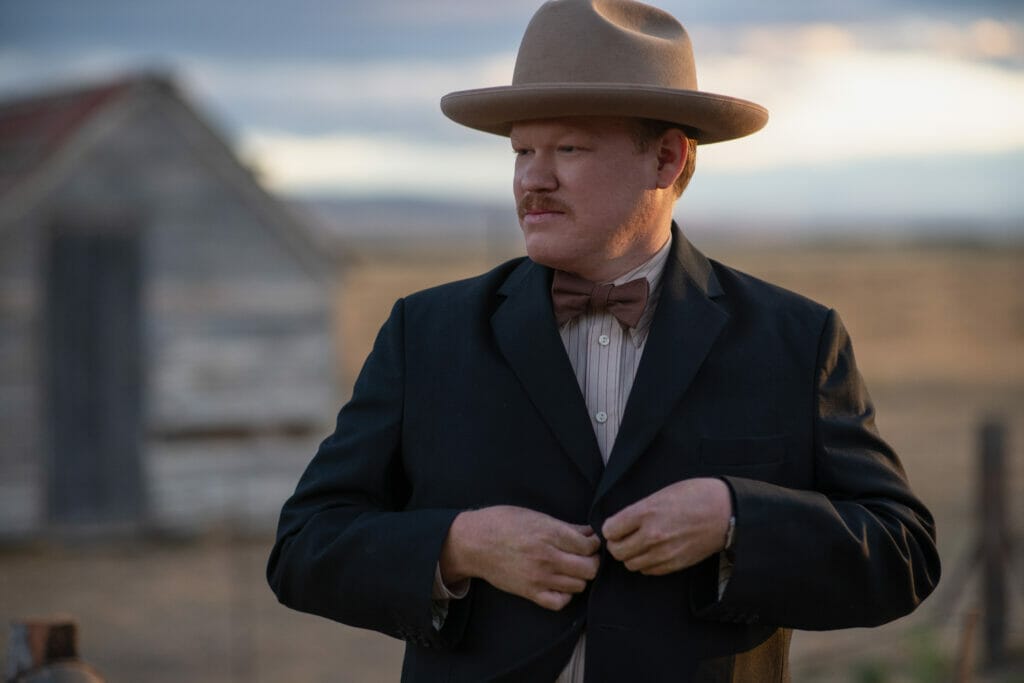 Instead, the first time the viewer meets Peter, he is introduced by a light piano background. As if to immediately emphasize his apparent youthful innocence and his stark contrast to the savagery of the Wild West. While Rose hums a closed-mouth melody, almost ashamed, in her first scene. And then she is always paired with the music of an atonal piano, similar to the detuned one that she plays insistently on screen several times. This perfectly conveys her sense of loss, yearning, and self-repression.
Finally, as we approach the final act, the characters' musical themes seem to blend together and culminate in extremely uneasy music. The Radetzky March challenge/duet scene between Rose on piano and Phil on banjo (and whistling) stands out. No doubt, all of this helps to understand how music is one of the key elements that play a major role in The Power of the Dog. Credit goes to Academy Award-nominated composer and Radiohead guitarist/keyboardist Jonny Greenwood who composed an intricate score, managing to give a sound to masculinity, sexuality, and the sense of repression that pervades the narrative.
In The Power of the Dog, the viewer is active
«Bronco Henry told me that a man's made by patience and odds against him.»
«My Father said obstacles, and you had to try and remove them.»

Phil Burbank (Benedict Cumberbatch) and Peter Gordon (Kodi Smit-McPhee)
In conclusion, The Power of the Dog is a slow, noir descent into a toxic inner spiral. Characters plunge, getting dirty, into the dark and wild depths of their unconscious and unexpressed selves. Jane Campion's direction creates a true dialectical exercise with the viewer and asks them to work with the characters. With the accuracy of a scalpel, we cut through the characters' shells. We delve into their nuanced and complex morality. In the end, like hands patiently knotting a rope, we grasp some answers while others stay hidden under the bed. Or covered by the shadows stretching along a uniquely shaped hill.
With this movie, Campion joins the growing list of female directors taking on the Western genre such as Lina Wertmüller with The Belle Starr Story (1968); Kelly Reichardt with Meek's Cutoff (2010); and Chloé Zhao with Nomadland (2020).
The Power of the Dog premiered at the 78th Venice International Film Festival where Campion won the Silver Lion for Best Direction. The American Film Institute listed it as one of the top 10 movies of 2021. In addition, at the 79th Golden Globe Awards, the movie won Best Motion Picture – Drama; Best Director; and Best Supporting Actor – Motion Picture for Kodi Smit-McPhee. Finally, at the 94th Academy Awards, The Power of the Dog is the most nominated movie with twelve nominations. Jane Campion wins for Best Director.
Tag

d